The Sunday School classes offered at Our Savior's Lutheran Church are a fun, hands-on experience for ages preschool through fifth grade. Each Sunday begins with a music lesson. We then teach lessons from the Bible, which relate to each week's sermons.
Sunday School is a great way to learn the many wonderful stories of the Bible. We continue to evolve with new lessons, exciting workshops, and an ever-changing environment to suit the needs of children. Come visit us on Jerusalem Street!
Highlights of our school year include our annual Christmas Program, a global mission event and our Donkey Walk on Palm Sunday.  We also host a few Intergenerational  Events – an Advent Project for all  families. OSLC has a child-safe policy that includes a background check for all adult volunteers regularly working with children.
Click here to print the form to register for Sunday School.
Mini Classes
Our Savior's also provides special one-time Mini-Classes for parents and students throughout the year.  (Note: some classes may be combined with other grades. Watch the calendar for details.) The classes offered are:
"Growing in Faith" for 3 & 4 year olds, teaching children and parents to share faith at home.
"What is Prayer?" for kindergartners and parents, which teaches children about the importance of prayer.
"What Does Baptism Mean to Me?" for first graders and parents.
"What is the Bible?" for second graders to help familiarize children and parents with books of the Bible.
We also offer "What is Holy Communion" for second graders and older who are ready to receive communion.
"What is Worship?" for third graders to enrich the worship experience.
"What Was When?" is offered to 4th graders to discuss the Bible and church history.
"Who is Martin Luther?" for 5th graders and their parents to help prepare students for confirmation instruction.
Vacation Bible School
Each summer we offer a themed week of fun and relaxed learning for the children of Our Savior's and the community. It helps the kids experience God's presence in our lives.  A coordinator, teachers and aides provide a safe and fun learning experience during the one week program.  It also provides children and parents from the community a chance to see what OSLC is all about.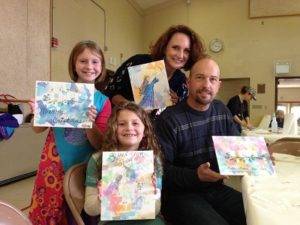 Inter-Generational Activities
We offer activities for the entire family to participate in. Generally during Advent we host an arts and crafts activity where we make table runners, yule logs and candles, wreaths, etc. This is a wonderful chance for all ages to get together for a fun purpose.
If you have any questions or if you would like to help out with this year's classes, contact Colleen at 725-3956.